Janice Martin
My Story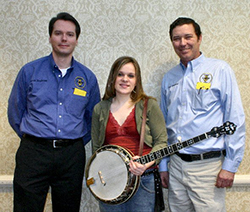 Before I found my Hopkins Banjo, I played a Gibson Granada a family friend loaned me, he told me I could play it as long as I needed it. I played it for quite some time. But I had to find a banjo for my very own. So the search was on.
Our friend, and store manager of Morgan Music, Alvin Deskins, was instrumental in helping me find my Hopkins banjo. One day while at Morgan Music, Alvin showed me a new line of banjos he had received. It was the Hopkins!
The minute I laid my picks to the strings, I knew it was the one! It was love at first note! Alvin said I got the biggest smile on my face! Everyone in the room knew the search was over. The sound of the Mahogany Hopkins was "The Sound" I was looking for.
A full, rich, balanced tone, and the growl of a classic pre-war Flathead 5 String banjo!
In 2006 Alvin Deskins introduced me to Paul and David Hopkins at a bluegrass convention in Nashville. They are two of the finest gentlemen you will ever meet. They are always so wonderful to work with, and when my banjo needs a tune up they are more than happy to work me into their busy schedule.
It was after I had been playing my Hopkins Banjo for some time, Paul and David presented me with an idea to create the Signature Janice Martin Model banjo, as their way of thanking me for playing their banjos. And helping get the word out about Hopkins Banjos.
I play my signature model Mahogany Hopkins banjo everywhere I go and I'm loving every minute of it!
Return to Banjo Model Page, click here